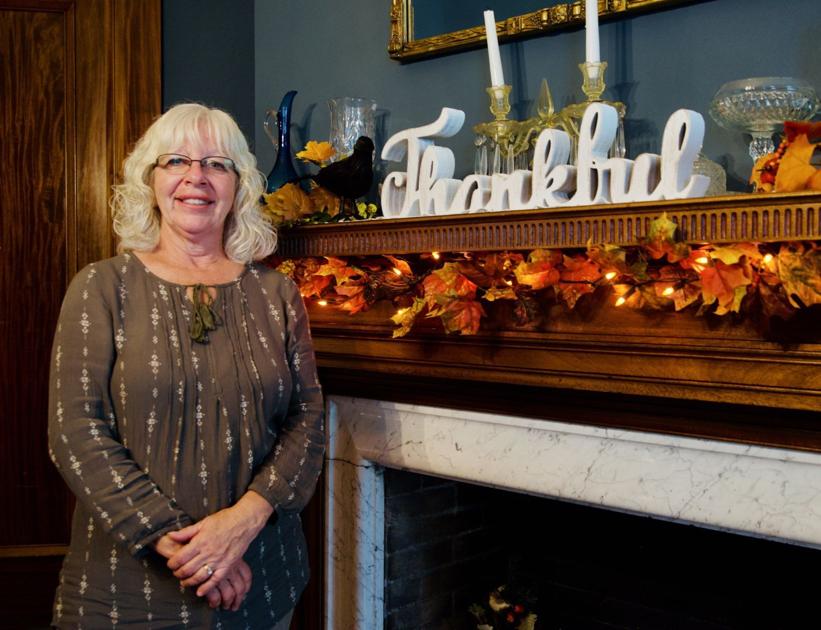 Bartlett House gears up for holiday season return | News
OLEAN — A resumption of holiday events and regular hours are on the table at the Fannie E. Bartlett House and Olean Point Museum.
Gail Feuchter, events and decorating coordinator at the house, said the city-owned facility is preparing for its fall and holiday events after a COVID-19-related wiping of the slate in 2020.
The pandemic canceled seven events over Summer 2020. Feuchter laments the loss of the year — the 30th anniversary of the city taking title to the historic structure. The only formal observance was when a historic marker was unveiled in October at the Queen Anne-style home with little fanfare.
"From March through the end of the year, we were basically shut down," she said, noting seven planned events that summer were unceremoniously dismissed.
Fortunately the pandemic lull over this summer allowed the house to host it's Pie on the Porch fundraiser during a StrOlean event, hold a lawn sale and even bring back its annual psychic fair. Bus tours are also resuming, with a tour of around 40 people coming from the Town of Aurora this week and a tour coming in the future from North Tonawanda.
More events are in the planning stages.
"We have a quilt show and doll show in the works," she said, noting hopes to bring back the popular antique appraisal event hosted in 2019. A body and mind wellness fair is being prepared for January
But even before the leaves on the trees out front begin to change, thoughts are turning to the holiday season and its decorations and events.
"October is when we start decorating for Christmas," she said, but don't blame "Christmas creep" — "It takes that long. We'll have at least 30 trees to decorate."
After a COVID-related hiatus, the Victorian Christmas Party will return Nov. 26 to coincide with the Santa Claus Lane parade. A book signing, "Memories of Christmas," by Sherri Bass, will also be held. Feuchter said she used the Bartlett House as the inspiration for the illustrations in the book.
On Dec. 4, the Day with Santa will also return.
"We did that in 2019, and it was a good time," she said, adding that along with Santa Claus, she hopes to land choir singers from Olean High School to entertain.
With events returning closer to normal — masks are required only of unvaccinated individuals under city policy for its structures — Feuchter hopes old friends and new stop in for events or during regular hours.
"We love to have visitors," she said. "We have to preserve our history and tell people about the Bartletts. They were a big part of our community."
Donations of antiques or documents related to Olean are always accepted.
"It's good to get things donated — people feel good knowing they've been preserved and can be enjoyed after they've been in the family for years."
There is one donation that has been sadly lacking, Feuchter said.
"I'm still on a mission to find a picture of Fannie Bartlett — there's no picture that exists of her," Feuchter said, adding she has taken trips to area libraries and historical societies trying to find any picture of the house's namesake.
The most direct link to Bartlett in the house, Feuchter said, is literally her name.
"All I have is her signature framed," Feuchter said, noting the signature came from one of the founding documents of the Olean Public Library — which was one of several local groups she helped form, along with the Olean chapter of the American Red Cross.
The Queen Anne-style house was originally built in 1881 by George Foreman, and purchased in 1891 by Frank and Fannie Bartlett for $15,000 — close to half a million dollars in today's money. The house features nine rooms decorated in turn-of-the-century Victoriana and seven fireplaces, each different in design and composition. The house is part of the Oak Hill Park Historic District, which was listed on the National Register of Historic Places in 1997. The city took title to the property in 1990. In 1998, conversion of the old carriage house to the Olean Point Museum was completed.
The house is open from 1-5 p.m. Wednesdays and Fridays, as well as for rental for special events. For more information, call 372-5642.