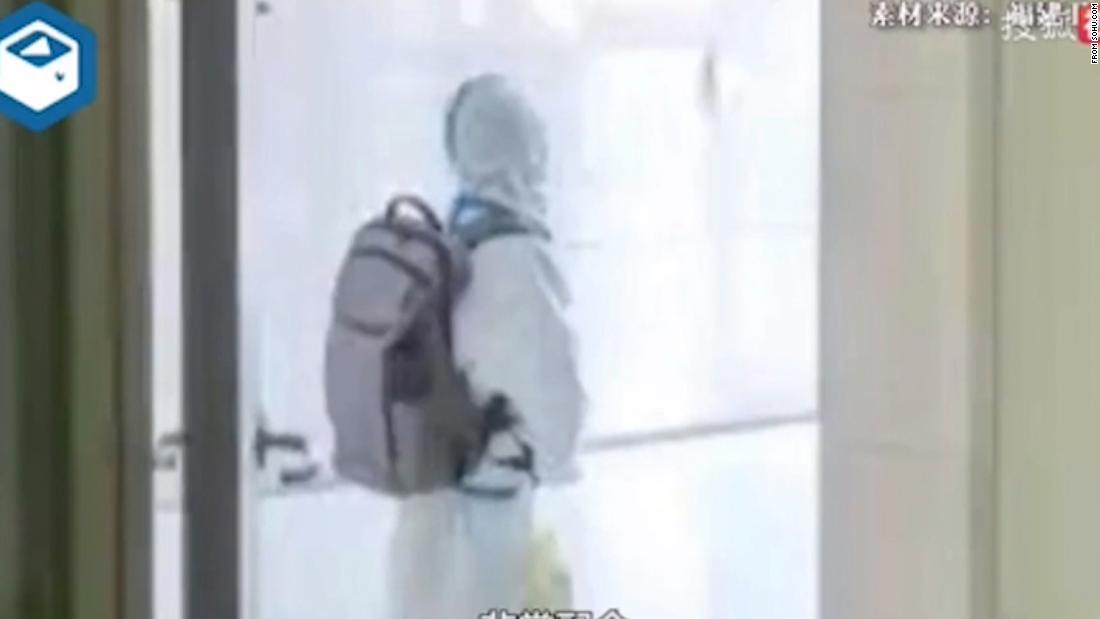 China's zero-Covid policy: An infected 4-year-old separated from his parents highlights its human cost
The video serves as a poignant reminder of the human cost of China's prized zero-Covid policy, which has helped the country quell multiple resurgences of the virus. The elimination playbook consists of placing entire neighborhoods under lockdown, testing millions of residents in a matter of days, and swiftly isolating infected people and their close contacts in designated facilities.
This time, the strict measures were applied to schoolchildren — among whom the outbreak was first detected and spread quickly. In Putian, 57 of its recently reported 129 cases are under the age of 12, according to the government. To prevent further transmission, infected children as young as kindergarten age are separated from their parents and put in hospital isolation.
In a news conference Thursday, the Putian government said China's epidemic control rules bar Covid patients from any company during isolation and treatment. But if a child and their parent are both infected, the hospital would try to arrange them to stay in the same ward, an official said.
Upon arrival, the children had CT scans by themselves. Some were so young they couldn't climb onto the scanning table and had to be picked up by a doctor, Zhu said.
"Seeing little children all alone by themselves, without parents by their sides, in a hospital (they are) unfamiliar and scared of — at that moment my heart really ached," she added.
On Weibo, some users questioned why children this young couldn't be accompanied by their parents. Others pointed out their parents were likely put in centralized quarantine in other facilities as close contacts of the infected.
"It's basically a strategy of 'rather killing a thousand by mistake than letting one go,'" said Jin Dongyan, a virologist at the University of Hong Kong. "Children shouldn't have needed to undergo such extreme quarantine measures. This is the social cost of the zero-tolerance approach."
The zero-Covid strategy still enjoys broad support among the wider Chinese public, many of whom have grown accustomed to the benefits associated with Covid-free living and remain fearful of the virus — partly due to unrelenting state media coverage on the devastation the pandemic has caused abroad.
"The success of the stringent approach is partly built on public fear. This is not ideal," Jin said. "The correct way is to tell the public the truth (about the need to coexist with the virus), which is the only sustainable way going forward."
Across the world, a growing list of countries have opened up after mass vaccinations. Others, such as Singapore and Australia, are also shifting away from the zero-Covid strategy to a new approach of learning to live with the virus.
Jin, the expert at the University of Hong Kong, said authorities are worried about the efficacy of the vaccines. Chinese officials have revealed that some of the early cases in a previous Delta outbreak were fully vaccinated.
"(They're concerned) that the social immunity is not strong enough. They don't have enough confidence in the vaccines," he said.
China is now offering booster shots to fully vaccinated people working at borders, customs, quarantine facilities, Covid hospitals and the aviation industry, according to the National Health Commission, but it remains to be seen how long the effect of that extra shot will last.
For the time being, the Chinese government is likely to stick to its zero-tolerance approach as it attempts to boost public immunity, but it will eventually need to learn to live with Covid, Jin said.
"It might go on for another year or two. But China can't shut its doors forever," he said.
But some worry that's not enough.
"During the day, it might be okay, but at night the kids will still be scared!" said a comment on Weibo.
Astronauts start the journey home
The three Chinese astronauts living in space for 90 days have returned to Earth, marking an end to China's longest-ever crewed mission.
The crew boarded the Shenzhou-12 spacecraft on Thursday and touched down at the Gobi desert in Inner Mongolia on Friday afternoon, state news agency Xinhua reported.
Before then, China plans to send three more manned spacecraft and two laboratory modules to the space station.
— By Jessie Yeung
China faces a potential Lehman moment. Wall Street is unfazed
Like Lehman in its heyday, Evergrande is massive, suggesting a default would be felt widely. The company has 200,000 employees, raked in more than $110 billion in sales last year and has more than 1,300 developments, according to Reuters.
Wall Street is keeping close tabs on the Evergrande situation, which highlights the extraordinary amount of borrowing Chinese companies and families have taken on over the years. Yet there are no signs that investors think an Evergrande default will infect US markets or the domestic economy.
For now, investors seem confident authorities in Beijing would use their vast control over the Chinese economy to limit the damage. And there is no evidence, at least so far, of contagion in US markets.
"I don't think the Evergrande meltdown, and the financial problems of Chinese property companies more broadly, will reverberate back on the US economy or markets," Mark Zandi, chief economist at Moody's Analytics, told CNN.
"We think that the 'China's Lehman moment' narrative is wide of the mark," Simon MacAdam, senior global economist at Capital Economics, wrote in a note on Thursday.
David Kotok, co-founder and chief investment officer of Cumberland Advisors, agrees, dismissing Evergrande as a "Chinese domestic credit problem."
"It does not look as if it has any contagion effects on American companies or American financial markets," Kotok said. "We see no credit spread widening."
Credit spreads, the difference between corporate bonds and ultra-safe Treasury rates, remain very narrow. That's a sign that investors aren't worried — especially given the Federal Reserve's unprecedented support for the economy and markets. Of course, that can change in a heartbeat.
"I would change my view at once if I saw any contagion or spillover" into the world's biggest economies, Kotok said.
The US Treasury Department declined to comment on the Evergrande situation.
— By Matt Egan
Around Asia