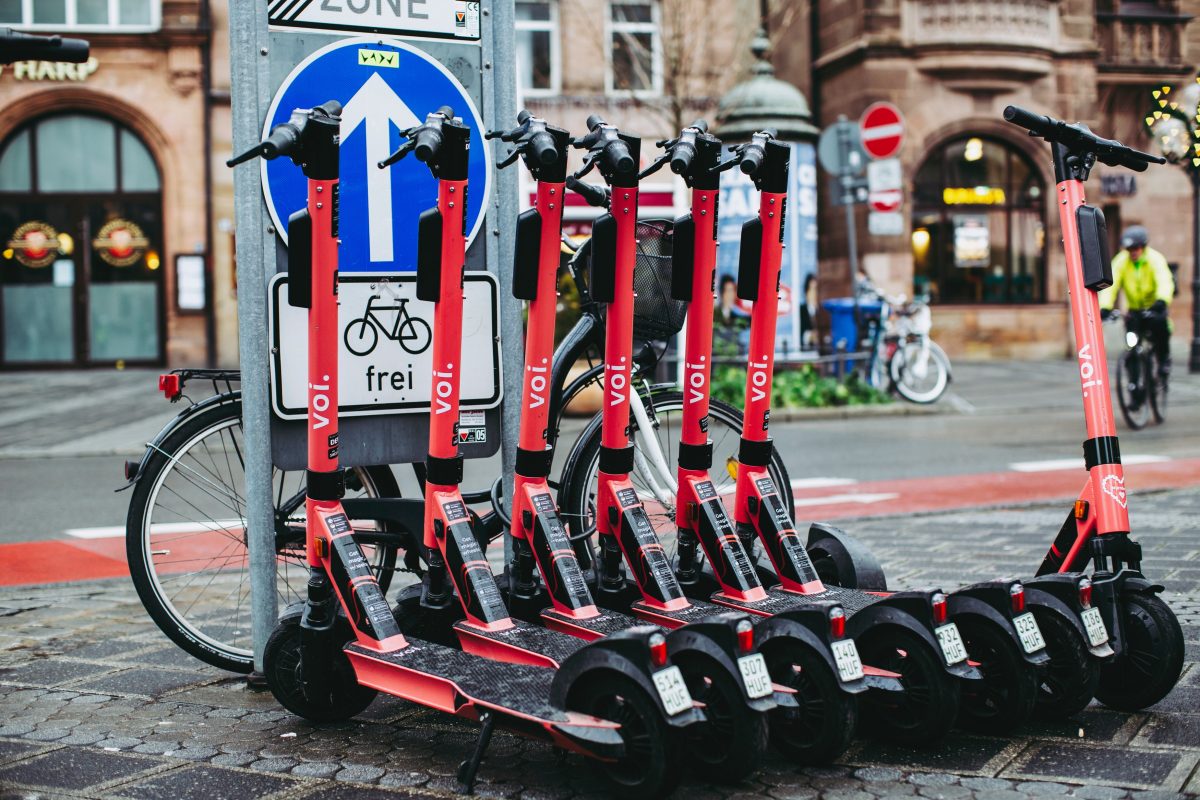 The E-Scooter: A More Sustainable Means of Travel?
At the start of December 2020, e-scooters were installed across several locations in Birmingham, including Selly Oak. These scooters, manufactured by Swedish company Voi, offer a quick, easy to access and environmentally-friendly form of transport. They are especially useful for students who want to explore more of Birmingham but don't want to bring their cars to Selly. To use the scooters, you need to be 18 or over and have a provisional UK driving licence. This information must be registered on the Voi app, which also details where the nearest e-scooter is and a summary of the rules.
There are several rules it is necessary to be aware of before using an e scooter: it is illegal to ride an e-scooter on the pavement, only one person can use a scooter at a time, you must be at least 18 years old, and should avoid using roads that have a speed limit above 30.
Before writing this article, a friend and I tried using an e-scooter. The following details are useful to know before testing out an e-scooter for yourself. To begin, you must scan the QR code that is on the e-scooter handle. It will then ask you to take a picture of your driving licence and your face. After this, you should be good to go.
To get moving, you push off with your foot several times, as you would with an ordinary scooter. Then, by gently pressing the 'Go' button, you can accelerate. I would recommend going slowly at first, and then gradually increasing your speed by pressing harder on the 'Go' lever. It is also worth becoming familiar with the brakes early on. The brakes are found on the handlebar, and are used like the breaks on a bike. To practice, we found a cul-de-sac on Heeley road. We spent some time testing out the speed, breaks and finding our sense of balance on the scooters. After this, we used the e-scooters to travel through Bournville and back, going in mid-afternoon to avoid any rush-hour traffic.
Using an e-scooter felt invigorating and, with practice, it was effortless to control, particularly on the flatter roads. Moreover, the e-scooter is enjoyable to use because it doesn't make any noise, although this means it is important to be aware of traffic around you, as car drivers will not be able to hear you. While using the e-scooter, most drivers seemed to be mindful of us and a couple even stopped us to find out how to use them.
Another positive aspect of the e-scooter is its cheap cost. To use it for 40 minutes cost us only £8.80. The Voi app also offers cheap deals for hiring the e-scooters, such as paying £10 to use it for 24 hours or £40 for a month. The advantage of hiring the scooter is that you don't have to worry about it getting stolen, which can be a risk for bike and car owners in Selly Oak.
However, we did find a handful of disadvantages. For example, it takes a few practices to become familiar with controlling the speed and the breaks. In addition, the weight of the e-scooter makes it quite difficult to move it quickly or to pull it onto the pavement. It is also worth planning a route in advance of using the scooter, especially as the roads in Selly can be busy and cars can speed down them; it would be sensible to avoid these areas on your first couple of rides.
This installation of e-scooters in Birmingham is an important step towards encouraging us to lead more sustainable lifestyles: they are a carbon-neutral mode of transport, suited to short journeys that could otherwise require a car. In addition, the Voi e-scooter has a long lifespan: each scooter is supposed to last for at least five years.
Overall, I would highly recommend for everyone to try out the e-scooter. Even if just for a one-off use, it's great to experience this fast and sustainable way of travelling. Hopefully, this roll-out of e-scooters will be the first of many more programmes set out by the government, encouraging us all to adopt more environmentally friendly ways of living.
For more articles on travel and the environment, check out the links below:
How COVID- 19's Travel Restrictions Have Triggered a Revival of Natural Landscapes
Wildlife Conservations Threatened By Decline in Tourism
Sustainable Series: Should we abandon Aviation for the planet?