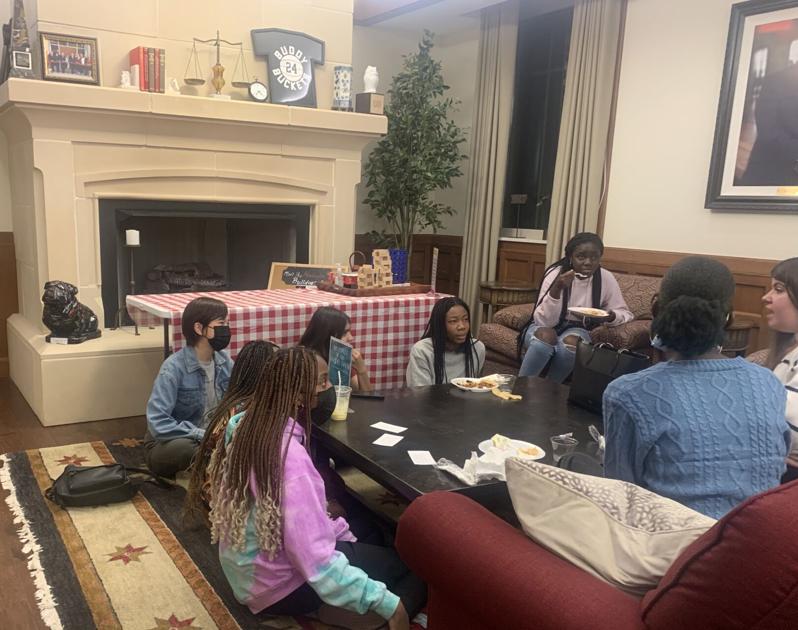 The United World hosts 'Living Library' event, members share personal, cultural experiences | Culture
The United World hosted a "Living Library" event Friday evening, allowing student and employee speakers to share their experiences and areas of expertise, ranging from issues of race, gender and sexuality to student leadership and cinema.
The Daily spoke with some of the speakers who participated in this event. Read more about each participant and their experiences below.  
'That's why I prefer to call cinema a verb' 
Film and media studies lecturer Belinda He said she's loved film since she was a kid, and she decided to pursue research related to political violence because of her interest in crime movies. She worked temporarily as a contributing journalist in Hong Kong and Beijing, but said she came to realize the emotional power of moving images through nonfiction writing. 
"That's why I prefer to call cinema a verb, because I do believe … it's never just about the text or images on screen, or what we see, what we hear," He said. "It's really about what we are able to do through cinema." 
He referenced Susan Sontag's book "Regarding the Pain of Others," which discusses the use of photography to depict violence, and said film allows viewers to similarly stand in another person's shoes.
In her Intro to Film and Media Studies classes, He often has her students watch films related to crime, including sexual violence. She said she studies films from different cultural and historical backgrounds and contexts, and wants to encourage her students to do the same.
"I don't want to limit myself or my students only to the theatrical cinema, the mainstream, the Hollywood that's still dominant," He said. "But, at the same time, I think we should value all this amateur media — vernacular images and phone footage, or even something recycled by movie fans and activists — (to teach us) how to make full use of images to do something." 
He said she's fascinated by a set of films that depict children witnessing political violence. While many people think of children's movies as being for entertainment only, she said these films blur the line between youth and adult audiences by making it clear that children's points of view matter. 
According to OU's 2021-2022 Annual Security and Fire Safety Report, rape reports on campus increased from previous years, rising from 21 in 2019 to 24 in 2020. He said on a college campus that experiences relatively high rates of sexual violence, showing films that depict those kinds of crimes is "timely." 
"I feel compelled to do whatever I can," He said. 
This week, He said she showed her class the movie "North Country," which centers around the first major successful sexual harassment case in the U.S. She said most of the class had an emotional reaction to it. During her class, she said she also mentioned "The Hunting Ground" — a documentary focused on sexual assault on college campuses — and was surprised to receive empathetic responses from students from diverse backgrounds. 
He said she tries to prepare students to watch films involving sexual violence about a week in advance, and makes sure to discuss trigger warnings. Based on students' reviews, she said she realizes watching sexual violence in film is more "emotionally empowering," "influential" and "impactful" than experiencing it through other mediums. 
"(That) drives them to reflect on how (there's) something happening on a daily basis, everywhere, and why it's so tough and so difficult for some people to talk about," He said. "We can never stay away from that." 
'A community I could fall back on.'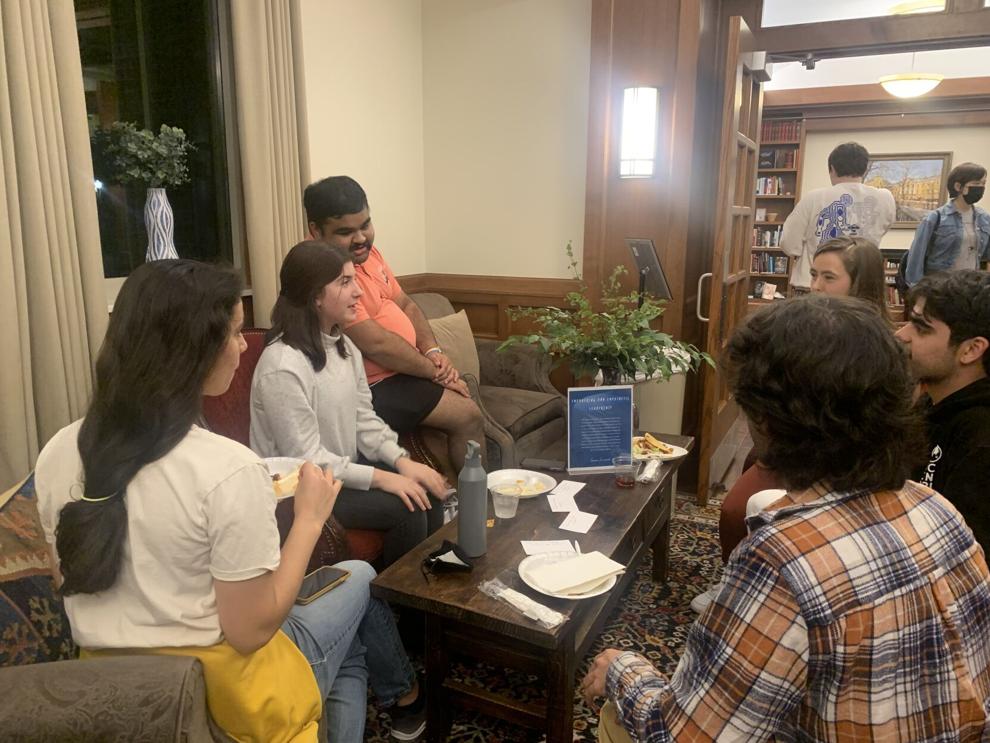 Joy Nath, an economics junior, hosted the "Rainbow with a Tinge of Brown" panel and discussed his experiences as a person of color and member of the 2SLGBTQ+ community within his community.
In India, where Nath is from, being openly gay is illegal. Nath said the term "homosexuality" was nonexistent when he was growing up. He said religious conflicts influenced hatred towards members of the 2SLGBTQ+ community, and he said he was surrounded by people who hated his existence.
To avoid punishment Nath said he had to hide an important part of himself for a long time before leaving home. 
A move to Canada allowed Nath to more openly express himself and become more comfortable interacting with others, he said. Nath's move came shortly after the legalization of same-sex marriages, which he said was a much needed move in the right direction.
"I felt happy when I heard the news," Nath said. "Seeing people getting the opportunity to marry who also share the same identity as me was exhilarating." 
However, when Nath returned back home to India, he said he was met with challenges, as he was still not open about his identity there. 
Nath eventually moved to the U.S. in 2019, and came to OU after hearing about the Norman research institute and the university's economics department. OU's United World College program was another factor Nath said encouraged him to come to Norman.
He said he felt secure knowing there was diversity in OU's student population. 
"I think I liked the fact that students here are conditioned to be around and interacting with other international students, and I was given a community I could fall back on when needed," Nath said. 
Nath said he still witnesses discrimination wherever he goes. While he said he might not feel as threatened in Canada or Oklahoma as he did in India, there is still a sense of "othering" that he feels needs to be addressed. 
"It's a fight even within our own communities," Nath said. "People don't think about 'normal people's' identities in the same way." 
Nath said he is thankful for his time at OU, as it has allowed him to speak more openly about his identity and connect with students who might share similar experiences.
'(Experiences that have shaped) … the complexity of my identity'
Neira Kadić, a United World College admissions counselor, scholarship advisor and adjunct faculty member, spoke about white privilege in the global south. This included topics such as white privilege, diversity at OU and identity. 
As a Bosnian native, Kadić said she was excited to share her perspective with event attendees.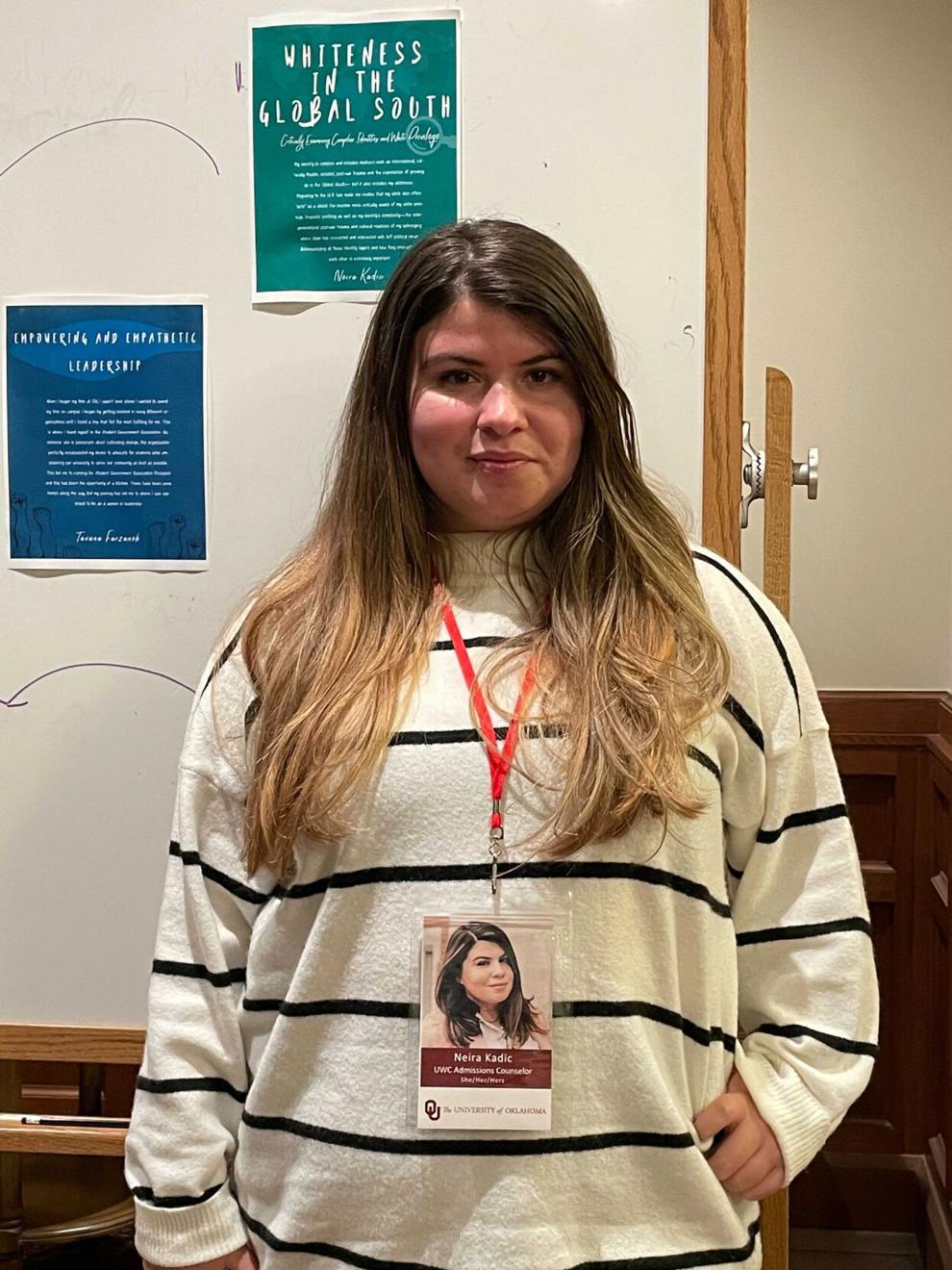 "I think there's so much value in being able to ask questions and talk to people when they're ready to talk because, in this country, this is not something that people do," Kadić said. "If you are speaking about traumatic events or very personal topics, it's great that you can when you're ready to. … I think that's the beauty of this (event)."
Kadić said she was brought up in the Balkans and came to OU as an international student, earning her undergraduate and graduate degrees in international studies. She said being at OU has allowed her to reflect on her time in Bosnia in a new way.
"I still have a lot of collective trauma from my parents surviving and living through (the Bosnian war), and I think understanding the fact that all of those experiences that your people and community live through (can) still affect you, even though you haven't personally lived through them, is something that I have come to terms with, and (is) something I don't think a lot of people think about," Kadić said.
Working in international education, dealing with the intergenerational trauma of the Bosnian war and learning about the privilege shaped who she is today, Kadić said. It took time and experience for her to fully understand her identity. 
"Coming to the U.S. really opened my eyes in terms of how whiteness plays a role in my life and how much privilege I have because of my skin color," Kadić said. "All of (my experiences) have definitely shaped my perception on the complexity of my identity and have enabled me to be where I am today."
OU's international community was enticing to Kadić, as she said she appreciated finding a group of people that shared aspects of her identity. In getting to know this community, Kadić said she came to realize that not all international students were treated equally.
"In simple social situations, I notice how my best friends are treated differently than I am. … (For example), in Walmart or Target, I get stopped only with my friends that are Black," Kadić said. "All of that has been eye-opening and difficult to grapple with, but it made me realize that I have so much work to do, and (that there is) so much (for others) to unlearn and undo." 
Kadić said she also has a complex religious and political background, as half of her family is Muslim and the other half is is socialist or communist. She said she sits in the middle of these coexisting ideas, which provide a duality to her identity. 
"To me, Islam is very culturally relevant, and I identify with (many of) the holidays and celebrations, because they remind me of my childhood. … But my political views are very much leftist," Kadić said. "(Learning how these identities coexist) has been really important to me (in understanding my identity)."
Kadić said she learns new things everyday in her work with the UWC and adjunct faculty at OU. She has learned that ideas held culturally and personally around the world can be completely different than what is taught. 
Engaging with students both inside and outside the classroom has added to the complexity of Kadić's identity, she said. 
Kadić said she feels OU has done a good job of understanding and helping international students, but acknowledged that the institution has a long way to go. She said OU did a good job of providing housing for students who could not go home over the summer due to countries' borders being closed. 
OU, however, has not done the best job of listening to students, Kadić said, as she feels OU tries to listen to its international communities, but is not ready to hear what they have to say. 
On a global scale, Kadić emphasized that standardizing international affairs and people is something everyone can work on. She cited a "lack of coverage" on protests in the South African Kingdom of Eswatini as an example. 
Individually, Kadić said people can work on educating themselves about different cultures and realizing that each culture is complex and unique.
'Listen, be patient, and have empathy'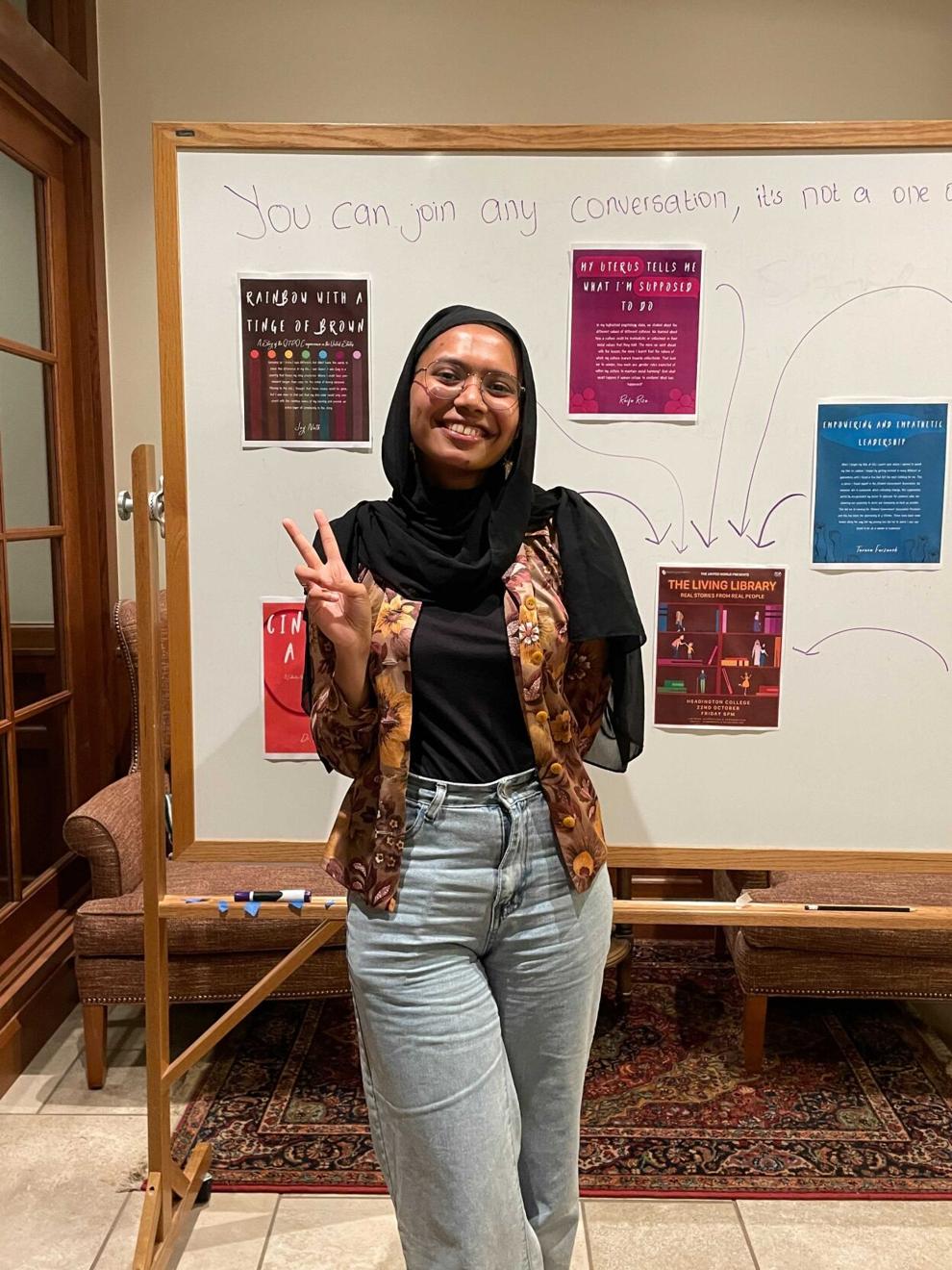 Raifa Riza, a psychology freshman, spoke about gender roles, collectivism and feminism. Before coming to OU, Riza said she resided in her home country of the Maldives and studied in Norway for two years.
Inspiration for discussing these topics came from an interest in women's rights and conversations Riza has had with her roommate about their collective experiences as women in their respective societies. She said the growth of her perspective on these topics in the U.S. has helped her to understand how gender roles are imposed on women from her country of origin.
"I remember growing up, (watching) broadcasts of the Maldivian Parliament and seeing only men," Riza said. "It led me to think 'Why can't I find women talking about issues relating to women's rights,' like abortions or having pregnancy and period leaves. … It's a few women in a court of many men."
Riza said, in comparing her home society of the Maldives, an eastern society, to a western society like Norway, she does not prefer one over the other. Riza said she wants the best for her home country.
An open conversation is the first step to influencing a better society for Maldivian women, Riza said.
Female politicians in the Maldives are often judged without being fully understood, Riza said. Instead of having a logical conversation about issues, citizens will often dismiss what women are saying because of their gender. In this way, political conversations are lost, Riza said. 
Riza said she believes progress on gender issues can be made by having open conversations between everyone. She said she feels the best way to understand is to listen, be patient and have empathy.
"When a woman of color is speaking about her experiences, be present and listen, instead of trying to relate or identify with her … (even if one can)," Risa said. "It is important to sit there, listen and have empathy. Most misunderstandings and disagreements stem from not having enough empathy for your fellow man." 
Riza says it is important to be present and active in understanding gender issues by being aware of what one says and how it can affect others.
"I hope that people think critically about the things they say or the jokes that they make," Riza said. "I hope that when an international student who is a woman or a woman of color is speaking about how she is upset with her home life or the misogynistic experiences that she's had, people could be more empathetic and understanding and be an ally rather than just a witness."