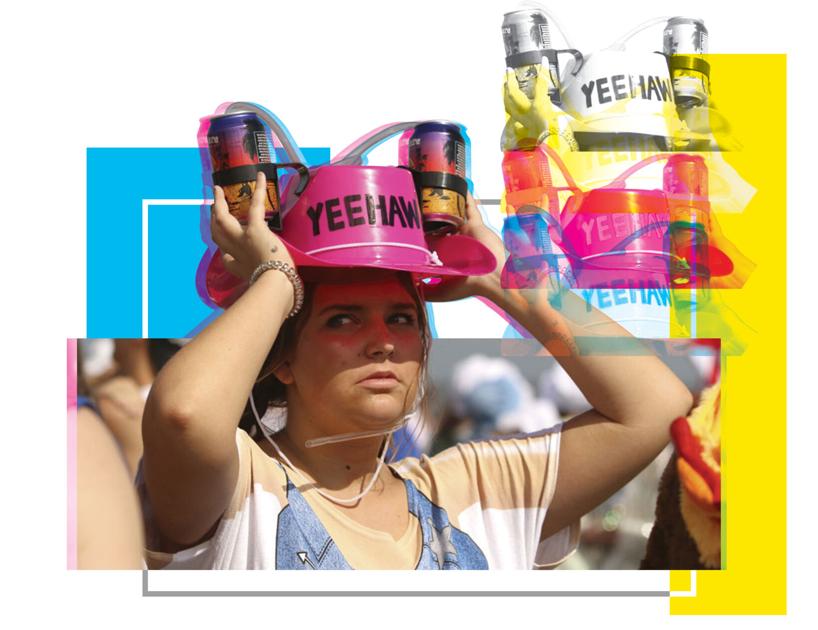 'The World's Largest Outdoor Cocktail Party': Football party culture through the years | Arts & Culture
It's that time of year again. The Georgia Bulldogs will make their way down to Jacksonville, Florida, just in time for the game with their historic rival, the Florida Gators.
The party culture during this weekend is at a fall semester high with students drinking and getting rowdy in preparation for the game, known as the World's Largest Outdoor Cocktail Party.
The Red & Black has covered the Georgia-Florida rivalry since the game's inception in 1915, so a dive into the archives helps put the pieces together to demonstrate the evolution of this fanatic celebration.
1930s
The Red & Black reported on various "social items" in a November 1930 paper, many of which involved the Georgia-Florida game.
"Miss Billie Routree entertained Miss Bunny Porter, Cornelia, at her home in Summit last week-end, going to Savannah for the Georgia-Florida game," the paper read.
In 1930, the famous game took place in Savannah. In years prior, it had also taken place in Tampa and Athens. Starting in 1933, the games took place exclusively in Jacksonville, except for two in the 1990s.
1940s
In a Red & Black issue from November 1948 lies an announcement that the Bulldog Club will stage a pep rally "through the downtown streets of Jacksonville." The UGA band and cheerleaders would lead the rally, the article read.
The university would even offer train rides to Jacksonville, according to an October 1946 issue.
The announcement urged 150 students to sign up so the university could organize a special train for a roundtrip to and from Jacksonville.
1960s
Traveling to Jacksonville for the game became a normalcy in the 1960s. In a November 1968 issue, the paper covered whether or not professors should count absences on Fridays before games. In a later issue, there was an advertisement from an aviation company encouraging Georgia students to fly to Florida for the game rather than drive.
1980s
In the late 1980s, officials wanted to move away from the World's Largest Outdoor Cocktail Party phrase — even though it couldn't ring more true than in this decade.
At a 1984 game, Florida fans tore down the goal posts after a 27-0 victory. Georgia fans did the same the following year after a victory of their own and ended the night with over 60 arrests.
2000s
At the 2006 Southeastern Conference, both UGA and the University of Florida asked sports media outlets to no longer utilize the cocktail phrase due to its insinuation of alcohol consumption following two deaths over the game day weekend.
Today, St. Simons Island, where Georgia fans go to party prior to attending the game in Jacksonville, announced it will not be allowing alcohol on the beach.
Even so, Georgia and Florida pride is not likely to diminish any time soon — after all, this is a rivalry and a celebration that has persisted for more than a century.