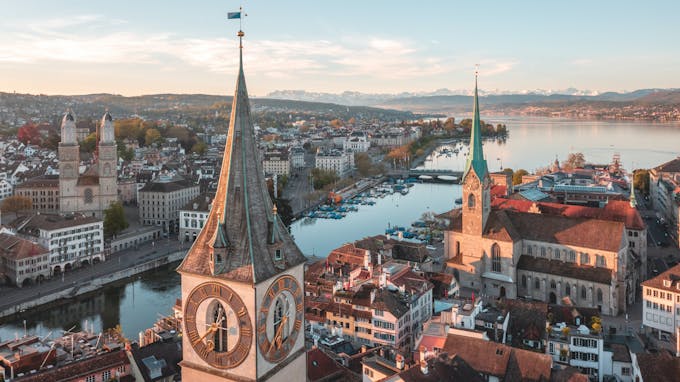 Tips for digital nomads in Zurich
Finding a city that is appropriate for both business and recreation is crucial for a digital nomad. Zurich is the ideal city for digital nomads because of its stunning surroundings, vibrant cultural scene, and handy position. But, vacationing and working simultaneously might be difficult, which is why we've put together a list of ten suggestions to help you get the most out of your stay in Zurich.
Tip 1: Find a good place to stay
Any digital nomad must find the ideal accommodation. Zurich offers a wide range of lodging options, from high-end hotels to inexpensive hostels.
Consider a hostel, Airbnb, or a rented apartment if you're searching for a cost-effective choice. Hostels like the City Backpacker provide inexpensive dorm-style rooms and a welcoming visitor community.
Homelike is a fantastic choice for those looking for a hassle-free way to find apartments to rent in Zurich. Renters can find verified landlords and expertly maintained properties on the platform Homelike. With Homelike, you may look through a variety of Zurich apartments, from modest studios to luxurious penthouses.
Find a co-working space
It can be tough to find a peaceful environment when working remotely. Co-working spaces can help with that. Digital nomads may find many coworking spaces in Zurich. Impact Hub Zurich, one of the best coworking spaces in the area, provides a sizable workstation, conference rooms, and high-speed internet.
Colab Zürich, a co-working facility that offers a friendly community and a laid-back working environment, is another excellent choice. Colab Zurich is a cutting-edge co-working place with a variety of amenities for digital nomads, and it is situated in the hip Kreis 5 area. The area has inviting workstations, conference rooms, and event venues. A community of like-minded professionals that are enthusiastic about collaboration and creativity exists within Colab Zürich.
Co-working facility Kraftwerk is situated in the center of Zurich's business sector. It is located in a former power plant and has a distinctive industrial style that fuses contemporary conveniences with classic characteristics. In addition to a range of corporate services like event planning, marketing, and legal counsel, Kraftwerk provides a variety of workplaces, including hot desks and private offices. The building also has a rooftop terrace with breathtaking city views.
Tip 3: Take public transport
Zurich's public transit system makes getting about the city easy and convenient. The Zurich Transport Authority (ZVV) manages the network, which consists of buses, trams, and trains that serve the entire city and its surrounding areas. Tickets may be bought at ticket machines found at most stations or via the ZVV smartphone app, and the system is simple to use.
For digital nomads and visitors who want to use public transportation to explore Zurich, the ZVV smartphone app is a helpful resource. Users of the app can plan their travel, purchase tickets, and view real-time schedules and routes. It also provides details on any delays or interruptions in service. The app also provides a variety of ticket choices, such as single tickets, day passes, weekly passes, and monthly passes. Digital nomads who intend to stay in Zurich for an extended period of time and require unlimited access to public transit will find the weekly or monthly passes to be very helpful.
Cycling is a preferred means of transportation in Zurich in addition to public transportation, particularly during the summer. Cycling around the city is simple and safe because to the well-established network of cycle routes. The city of Zurich also provides a number of pay-per-use bike rental apps, including Lime and Donkey Republic. These apps are simple to use, and smartphones may be used to unlock and rent bikes. These apps can also be used by digital nomads to independently explore a city and experience its sights and sounds at their own speed.
Overall, for digital nomads looking to explore Zurich sustainably and affordably, public transportation and cycle rental applications are fantastic possibilities. Getting around Zurich has never been simpler thanks to a well-connected public transportation system, an expanding network of cycling routes, and rental apps.
Tip 4: Use a bike or on foot to explore the city.
The best way to see everything Zürich has to offer is to explore it on foot or by bicycle. The Old Town, Lake Zurich, and the Bahnhofstrasse shopping district are a few of Zurich's top destinations for strolls or bike rides. You can take a guided bike tour to explore the city's top attractions, or you can rent a bike from one of the many bike-sharing stations scattered across the area.
Tip 5: Taste the local cuisine
Zurich boasts some of the best food in the nation, and Swiss cuisine is a distinctive fusion of French, German, and Italian influences. There is something for everyone, from classic delicacies like fondue and raclette to contemporary Swiss cuisine. Zeughauskeller is a restaurant that provides classic Swiss fare in a historical setting and is one of the best places to experience Swiss cuisine in Zurich. The Frau Gerolds Garten food market, which offers a range of regional and international cuisine, is another excellent choice.
The world's first vegetarian restaurant, Hiltl has been dishing up delectable plant-based fare in Zurich since 1898. From Indian curries to Mediterranean mezze, the restaurant offers a buffet-style eating experience with a variety of different cuisines. Hiltl is an excellent place for a nutritious lunch or snack because it also features a juice bar and a bakery.
Kronenhalle: Known for its traditional Swiss cuisine and old-world splendor, Kronenhalle is a famous Zurich institution. For more than a century, the eatery has been a local and tourist favorite, and it has welcomed luminaries like Coco Chanel and Pablo Picasso. Try the Zürcher Geschnetzeltes, a creamy veal dish served with rösti, which is the restaurant's hallmark dish.
Old Crow: In the center of Zurich's Old Town, there is a well-known whiskey bar called Old Crow. Around 200 different whiskeys are available in the bar, along with a variety of cocktails and craft beers. It's a fantastic location for a night out with friends because of the warm and welcoming ambiance.
Onyx Bar: Onyx is a chic rooftop bar that can be found on the hotel's eleventh floor, the Park Hyatt Zurich. The bar serves a variety of cocktails and wines and has sweeping views of the city. It's the ideal location for an intimate date or a night out with friends.
Tip 6: Learn a bit of Swiss German
Even though English is widely spoken in Zurich, knowing a little bit of German might be useful for getting around the city and getting along with residents. German language study resources abound, including language schools, online courses, and language exchange initiatives. Having even a rudimentary understanding of a few Swiss German phrases will greatly improve your relationships with locals.
Swiss German is a variety of the German language that is spoken in Switzerland. It differs greatly from standard German in terms of syntax, vocabulary, and sound. The pronunciation is one of the most noticeable variances, as Swiss German has a distinctive accent and tone that can be challenging for non-native speakers to comprehend. Swiss German also makes use of a variety of unusual words and idioms that are not found in standard German. For instance, the normal German welcome is "Guten Tag," whereas the customary greeting in Switzerland German is "Grüezi".
Also, Swiss German has its own set of grammatical conventions that might be very different from those of standard German. Swiss German and standard German, despite these differences, have a lot in common, and speakers of both languages can usually comprehend one another with some effort.
Tip 7: Check out cultural events.
There are many things to do in Zurich, a city with a rich cultural history, for digital nomads to experience. Some of the top cultural pursuits in Zurich include the following:
Museums: Zurich is home to a wide range of museums, including modern art galleries and traditional art museums. The Kunsthaus Zurich, one of the most well-known museums, is home to a sizable collection of Swiss artwork and pieces created by artists from other countries. Another well-liked museum that provides an in-depth look at Swiss history and culture is the Swiss National Museum. The Migros Museum of Contemporary Art is a must-see for contemporary art, and it offers cutting-edge exhibitions and installations.
Opera and theater: Zurich boasts a thriving opera and theater culture with a variety of events all year long. On the shores of Lake Zurich, in a beautiful structure, the Zurich Opera House presents a varied schedule of opera, ballet, and classical music. Another well-liked location that presents a variety of theater productions in both German and English is the Schauspielhaus Zurich.
Festivals: During the year, Zurich offers a number of events that celebrate anything from gastronomy and art to music and film. The Zurich Film Festival, which features worldwide films and draws notable people from all over the world, is one of the most well-known. The Street Parade, a sizable electronic music festival that takes over the city's streets each summer, is another well-liked event.
Galleries: Zurich is home to a number of galleries that feature cutting-edge artwork and up-and-coming artists. A well-liked location is the LUMAS gallery, which features limited edition prints and images by both well-known and up-and-coming artists. Another must-see is the Hauser & Wirth gallery, which offers a varied schedule of exhibitions and installations.
Zürich is renowned for its distinctive fusion of old and new architecture. Buildings from the Middle Ages that are immaculately preserved can be seen in the Old Town, a UNESCO World Heritage site. The Prime Tower and the Migros headquarters building are only two examples of the city's many iconic modern buildings.
Digital nomads can discover a wide variety of cultural activities in Zurich overall. This lovely city has much to offer everyone, regardless of their interests in music, art, or history.
Tip 8: Socialize
Connecting with other like-minded people is one of the best aspects of being a digital nomad. There are many opportunities to connect with other digital nomads in Zurich, which boasts a thriving community of them. Nomadlist and Remote Year are two of the best online forums for digital nomads. Additionally, you can go to physical meetups and events organized through apps such as meetup and facebook events.
Tip 9. Stay healthy
When you work remotely, it's crucial to maintain your health and well-being. When you spend hours in front of a computer, it might be simple to adopt a sedentary lifestyle. Zurich does, however, provide a wide range of opportunities for staying fit and active. You can practice yoga at one of the city's many studios or go for a run along the lakefront. Also, a number of fitness facilities offer drop-in prices to travelers.
Tip 10: Make wise travel arrangements.
As a digital nomad, you must strike a balance between your vacation plans and your job obligations. To guarantee that you can fulfill your deadlines and remain productive while on the road, it is imperative that you carefully organize your travel. Organizing your work hours around your travel itinerary is one method to achieve this. For instance, plan your work for the evening or early in the morning if you know you'll be out sightseeing all day.
Overall, Zurich is a great city for digital nomads thanks to its stunning landscape, active cultural scene, and handy location. You can make the most of your time in Zurich and successfully juggle your job and travel responsibilities by paying attention to these ten suggestions. Zurich offers something for everyone, whether it's walking around the city, sampling the cuisine, or networking with other digital nomads. Prepare yourself for a memorable experience in one of Europe's most stunning cities by packing your luggage, grabbing your laptop, and getting there.